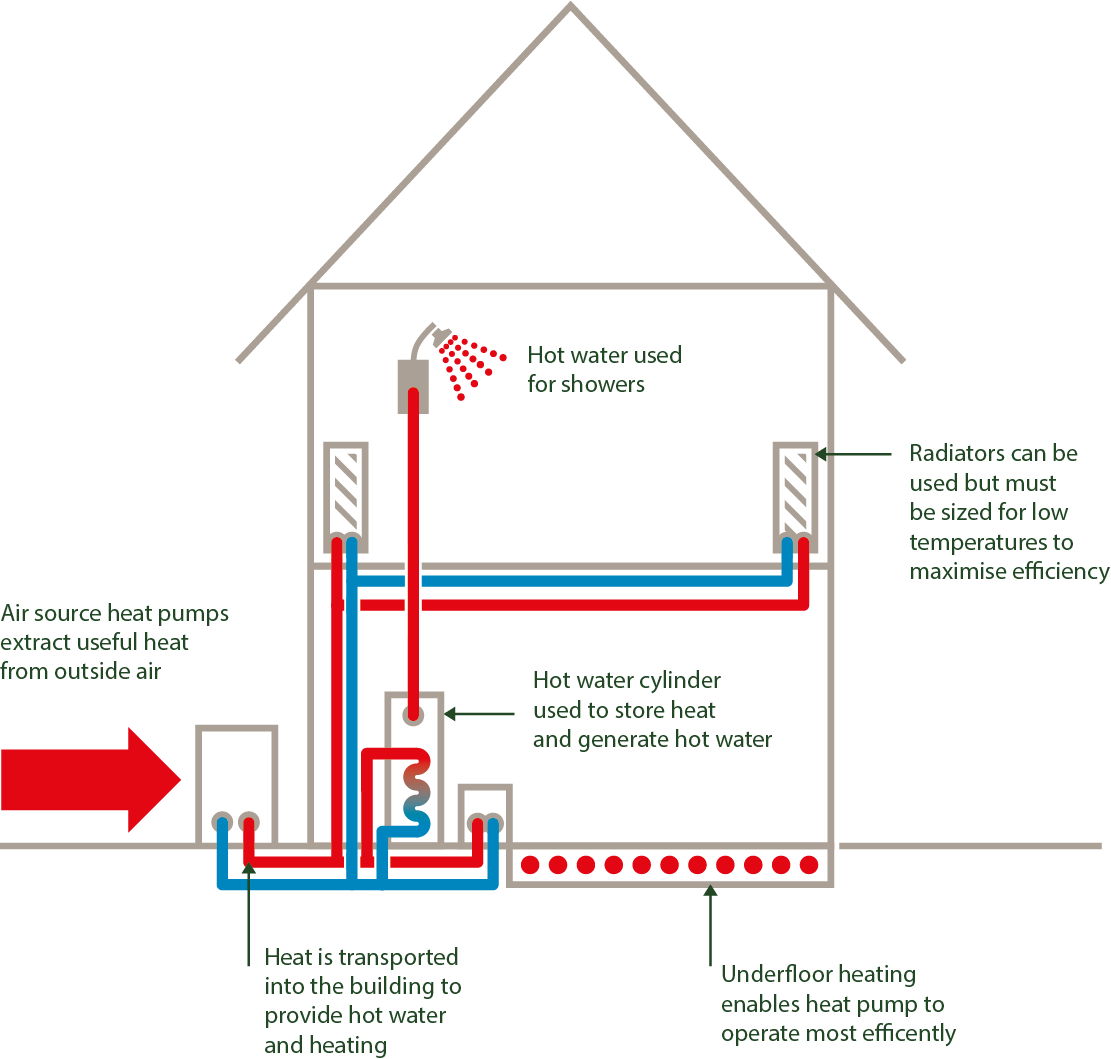 Air source heat pumps have been seen as one of the key measures for the UK to meet our net zero targets. While the initial heat pump models faced some criticism for low efficiencies, and their incorporation into poorly insulated homes, key lessons have been learnt over the years.
New-build projects and well-insulated existing homes that are off-grid have the potential to have their running costs reduced through installing an air source heat pump. The best performance can be assured if the house is as well insulated as possible, and features low-temperature underfloor heating or over-sized radiators, as well as user-friendly controls. If correctly specified, an air source heat pump should be able to provide 100% of a home's domestic hot water, but often an electric immersion heater is installed too.
Residents should also be educated in what to expect from an air source heat pump. They will need to be aware that radiators will be warm rather than hot, and because of this the property will heat up more slowly. They should also be advised that the air source heat pump will run for longer than a conventional boiler, but will closely match the heating requirements of the house thanks to proper controls (for maximum energy efficiency).
So the benefits are quite clear:
An air source heat pump can provide running cost savings for off-grid sites with no access to mains gas, and also provide future proofing for sites that could use mains gas.
Specifying an air source heat pump can provide a significant improvement against Part L of the Building Regulations, due to the way that heat pumps are modelled in the calculations.
There are however a few limitations that should be considered:
Air source heat pumps tend to be much smaller than traditional gas boilers in terms of heat output, so it generally takes longer to heat up the hot water cylinder.
Most air source heat pump systems require the installation of an external box, which can be obtrusive in terms of noise and appearance.
In addition, there are a couple of other considerations that should be borne in mind:
Air source heat pump efficiencies are generally stated at an external temperature of 7°C, which may not reflect the actual average efficiencies achieved during the year.
During cold weather air source heat pumps can consume energy by having to defrost themselves, so may not be cost efficient during extended cold periods.
If you'd like to talk about whether air source heat pumps might be suitable for your development, please contact us. Alternatively, you might want to find out more about the ground source heat pump option, or perhaps discover the pros and cons of a biomass boiler.