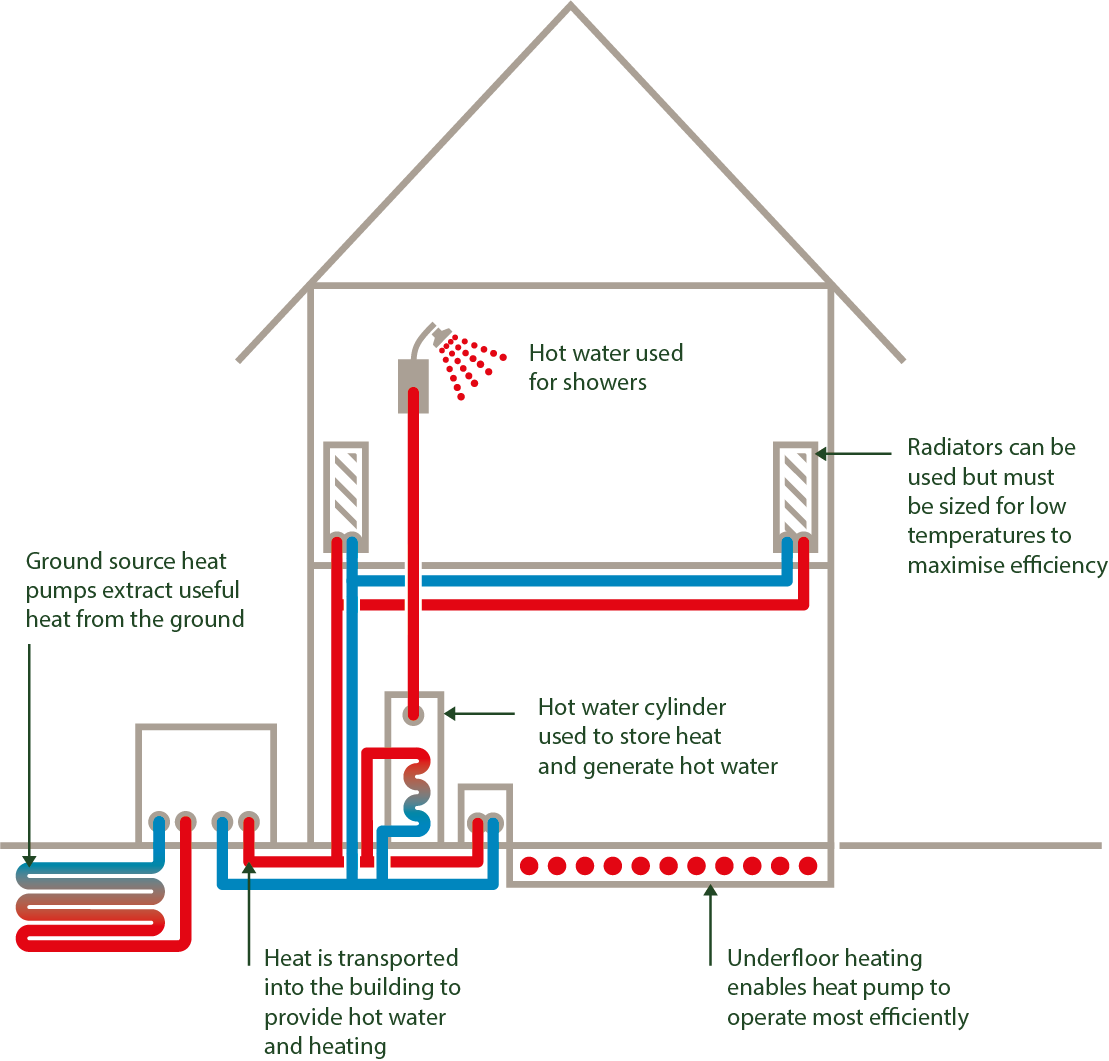 Ground source heat pumps boast similar benefits, and require similar considerations, to air source heat pumps – neither are suitable for all types of property.
To ensure the best performance, houses need to be well-insulated, and either low-temperature underfloor heating or over-sized radiators should be specified. A ground source heat pump should be able to provide all of a home's domestic hot water, provided it is properly specified, but often an electric immersion heater is installed as well.
It's also a good idea to make sure residents are familiar with the differences between a ground source heat pump system and one powered by a conventional boiler – the radiators will be warm rather than hot, and so the property will heat up more slowly. In addition, they will find the heat pump will run for longer, but as long as it has proper controls, its output will match the house's heating requirements closely (for optimum efficiency).
The benefits are largely similar to air source heat pumps, but with one critical advantage:
Because of the way that heat pumps are modelled in the relevant SAP calculations, ground source heat pumps can offer a significant improvement against Part L of the Building Regulations.
For off-grid sites (those without access to mains gas), ground source heat pumps can provide running cost savings.
Ground source heat pumps may provide higher running efficiencies than equivalent air source heat pump systems, but the higher investment and market share of air source heat pumps in recent years means that this is not always the case.
However, there are a couple of limitations – the first of which could be a significant obstacle for smaller sites or those with higher-density buildings:
Ground source heat pumps require a significant area of external land to install the ground loops.
Ground source heat pumps tend to offer lower outputs than traditional gas boilers, so it usually takes longer for heating and domestic hot water systems to reach the set temperature.
There is also another point that should be borne in mind during the planning process:
The additional ground works for ground source heat pump installation cost may not be recoverable on sites where ground works aren't already being undertaken anyway.
If you'd like to find out more about ground source heat pumps, and their suitability for a particular project, please contact us. Alternatively, you might want more details on the air source heat pump option, or maybe some further information about biomass boilers.